5 Tips for Preparing Yourself For The New Year: 2019 edition (#125)
by David G. Guerra • Walking Leader Podcast
---
In This Episode:

 5 Tips for Preparing Yourself for the New Year (2019 edition) with your host David G. Guerra, MBA
---
LISTEN NOW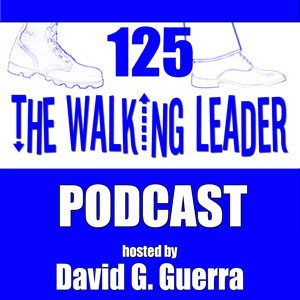 In this episode, I talk about the 5 Tips for Preparing Yourself for the New Year (2019 edition).
The new year is upon us and now we have no choice but to move on and forward into the uncertainty that the new year is bringing. However, not all is doom and gloom. On the contrary, while change is the only certainty it is not all doom and gloom. If managed properly change in the new year can be not only beneficial but something you can look forward to as the months progress towards next December 31st.
That is why I am offering you five (5) tips to get you started on facing 2019 in a positive way to harness your future and your success.
Don't forget to CREATE WIN-WIN situations in all that you do. Start Strong! Stay Strong! Finish Strong! Be Strong!
And as always, I remind you to GO BEYOND THE GRIND & GO BEYOND THE HUSTLE BECAUSE THAT IS THE ONLY WAY TO BE THE WALKING LEADER AND A LEADER THAT IS GREAT TO FOLLOW.
---
Please plug in your headphones, sit back and enjoy this 15 minute podcast.
---
Transcription: (coming soon)