Cold & Flu Season In The Workplace (#123)
by David G. Guerra • Walking Leader Podcast
---
In This Episode:

COLD & FLU SEASON IN THE WORKPLACE with your host David G. Guerra, MBA
---
LISTEN NOW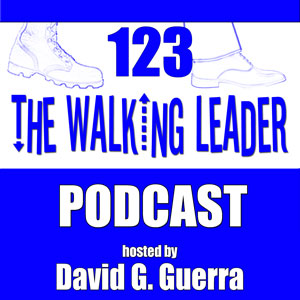 In this episode, I talk about Cold & Flu Season In The Workplace.
Doing something now will help prevent major problems later, especially that we are now knee deep in the cold & flu season. I offer some helpful tips and tactics to employ now in an effort to curtail the possibility of your entire workforce falling ill and ultimately passing that illness along to your customers and external stakeholders. Remember, an ounce of prevention is worth a pound of cure! Act Now!
Don't forget to CREATE WIN-WIN situations in all that you do. Start Strong! Stay Strong! Finish Strong! Be Strong!
And as always, I remind you to GO BEYOND THE GRIND & GO BEYOND THE HUSTLE BECAUSE THAT IS THE ONLY WAY TO BE THE WALKING LEADER AND A LEADER THAT IS GREAT TO FOLLOW.
---
Please plug in your headphones, sit back and enjoy this 15 minute podcast.
---
Transcription: (coming soon)