Politics In The Workplace (#122)
by David G. Guerra • Walking Leader Podcast
---
In This Episode:

POLITICS IN THE WORKPLACE with your host David G. Guerra, MBA
---
LISTEN NOW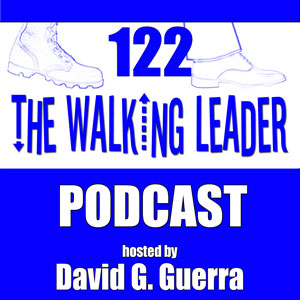 In this episode your host, David G. Guerra, talks about Politics In The Workplace.
It is Election season, again (did it ever truly go away). A true Leader must always work his/her followers  and stakeholders to make their workplace where actual work takes place and not a place to hold political debates and exchange the inevitable rhetoric. By starting now, Business Leaders can protect all sides of the spectrum during the never-ending season of politics and the protections afforded by the 1st Amendment. Setting policies and procedures and training all stakeholders (internal and external) will go a long way towards keeping your place of business your place of business. A Leader like you is Always creating WIN-WIN situations in all that you do. Start Strong! Stay Strong! Finish Strong! Be Strong!
And as always, I remind you to GO BEYOND THE GRIND & GO BEYOND THE HUSTLE BECAUSE THAT IS THE ONLY WAY TO BE THE WALKING LEADER AND A LEADER THAT IS GREAT TO FOLLOW.
---
Please plug in your headphones, sit back and enjoy this 13 minute podcast.
---
Transcription: (coming soon)