New Employee Orientation vs. Successful Onboarding (#120)
by David G. Guerra • Walking Leader Podcast
---
In This Episode:

LEADING NEW & TENURED STAFF WHEN THE NEW HIRE ARRIVES with your host David G. Guerra, MBA
---
LISTEN NOW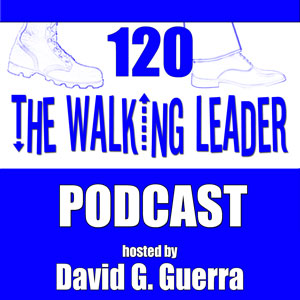 In this episode your host, David G. Guerra, talks about LEADING NEW & TENURED STAFF WHEN THE NEW HIRE ARRIVES.
The Leader must work with the current team to ensure the new hire can become a successful and productive member of the team. However, not all teams are led by Leaders, I also talk about what happens when an "all about the numbers" manager is at the helm. Always create WIN-WIN situations in all that you do. Start Strong! Stay Strong! Finish Strong! Be Strong!
As always, I remind you to GO BEYOND THE GRIND & GO BEYOND THE HUSTLE BECAUSE THAT IS THE ONLY WAY TO BE THE WALKING LEADER AND A LEADER THAT IS GREAT TO FOLLOW.
---
Please plug in your headphones, sit back and enjoy this 15 minute podcast.