New Employee Orientation vs. Successful Onboarding (#119)
by David G. Guerra • Walking Leader Podcast
---
In This Episode:

New Employee Orientation vs. Successful Onboarding with your host David G. Guerra, MBA
---
LISTEN NOW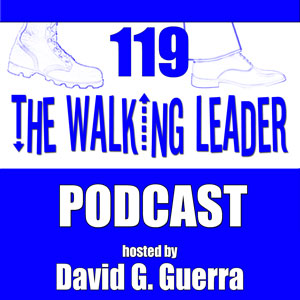 In this episode your host, David G. Guerra, talks about
NEW EMPLOYEE ORIENTATION versus SUCCESSFUL ONBOARDING.
David talks about how the first impression any organization makes should NOT be the one that leaves the new hire doubting their decision to accept the job offer and joining the organization. Do what you can now to remove any form of doubt because once that first impression is made it cannot be undone.  Always create
WIN-WIN situations
in all that you do. Start Strong! Stay Strong! Finish Strong! Be Strong!
As always, I remind you to GO BEYOND THE GRIND & GO BEYOND THE HUSTLE BECAUSE THAT IS THE ONLY WAY TO BE THE WALKING LEADER AND A LEADER THAT IS GREAT TO FOLLOW.
---
Please plug in your headphones, sit back and enjoy this 17 minute podcast.