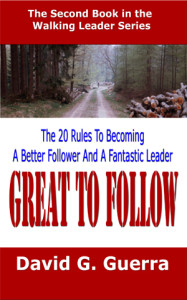 To be a great leader you have to be a greater follower. Everyone knows that. Really, everyone should know that. Everyone should believe that.
All great leaders were once great followers. In this follow up to the WALKING LEADER, David Guerra offers future leaders 20 rules to help them become better followers and in turn become leaders that are great to follow. The twenty common sense rules are designed to get the reader actively involved with creating and shaping their future as a leader with any organization.
The 20 rules of "Great To Follow" are built from common sense with an added modern 21st Century spin. Pulling no punches with the rules, David offers a no nonsense approach to becoming the follower any organization will quickly promote to the level of leader with minimal push-back or resistance.
Order your copy of Great To Follow for the Amazon Kindle

---
Order a paperback copy of Great To Follow

Save